Planetarium Show: "Incoming!"
"Incoming!" explores the past, present, and future of our Solar System and the landmark discoveries scientists have made sending spacecraft to visit tiny worlds.  We will discover what impacts from above can teach us about the history of our planet, the solar system, and the universe.  A "Tonight's Sky" program showing seasonal constellations and planets currently in the night sky will follow the show.  Registration Required.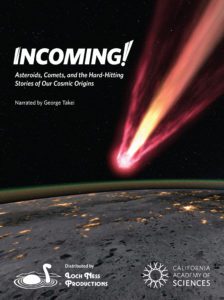 Please note:  This film has multiple showings.  Please double check that you are signing up for the correct time.