Planetarium Show: "Impact! Encounters with Comets, Meteors, and Asteroids"
We will learn about the Chicxulub and Tunguska meteor events, the Brenham meteorite fall, and the asteroid fragment that struck Siberia on February 15, 2013, becoming the most documented meteor event in history.  We learn how asteroid hunters seek new objects in the solar system, and how ground penetrating radar is used to find meteorites that have survived to the Earth's surface.  A "Tonight's Sky" program showing seasonal constellations and planets currently in the night sky will follow the show.  Registration Required.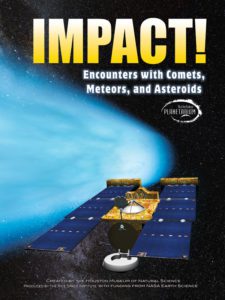 Please note:  This film has multiple showings.  Please double check that you are signing up for the correct time.